115 degree heat wave! Black lightning getting better. Glow lets us look back smugly on 80s racism and sexism. Lucifer's sex moves, Ordering groceries on line, Jami was in an actual robbery before we met! Still tripping out about that... Ant Man's Ghost villain gives us a look at Chronic pain and how it's kind of seen and lots of funny moments too,
We also talk about the growing relationship (She's sort of on his radar along with a few of the Scum & Villainy Cantina regulars) with Cat Ears and Kevin Smith who helped us plug her movie... Preacher Six.
Kevin has been super nice in so many ways. Way above and beyond to his fans and dare we say I think Cat Ears has graduated to "remembered and nicknamed fan." and actually part time helper which we might talk about next episode.
http://preachersix.com/
https://www.imdb.com/title/tt5095030/
https://en.wikipedia.org/wiki/Black_Lightning
https://www.netflix.com/title/80114988
https://www.youtube.com/watch?v=bZ2lvIZlUVk&t=6014s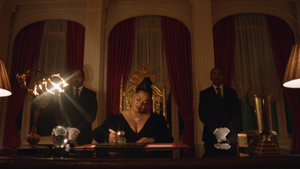 Lady Eve and her Monsterous ... powers.